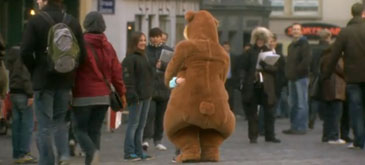 Jung von Matt/Limmat: Pro Infirmis Kommen Sie näher.

Kommen Sie behinderten Menschen auch auf Facebook näher. Liken Sie die Seite von Pro Infirmis: http://www.facebook.com/proinfirmis

Pro Infirmis (Non-profit organisation · Zürich, Switzerland) macht ein Experiment. Denn wenige Leute haben etwas gegen Behinderte. Dennoch bleibt der Platz im Bus neben Fabian leer. Behinderte sind ein normaler Teil unserer Gesellschaft. Darum: Kommen Sie näher.
Actualmente societatea noastra (si nu numai) se confrunta cu diverse probleme in ceea ce priveste situatia dificila a persoanelor cu dizabilitati. Una dintre aceste probleme ar fi stereotipurile si prejudecatile negative, adesea ofensatoare, aduse la adresa acestor oameni. Din spusele persoanelor cu dizabilitati reiese ca majoritatea oamenilor "normali" evita sa intre in contact direct cu ei, gasind de fiecare data un pretext. Fabian este unul dintre acestia, de la el aflam ca atunci cand se aseaza pe scaun intr-un autobuz aproape plin, deseori scaunul de langa el ramane gol.
Persoanele cu handicap trebuie date la o parte sau trebuie tratate in acelasi fel in care tratam o persoana obisnuita? Pentru a raspunde la intrebare, va invit sa vizonam impreuna un experiment pus la cale de catre Pro Infirmis (organizatie non-profit din Elvetia) :
I swear i fucking cried @0:22 when the Guy throws his Jacket in the dirt to give him a hug, like it´s his best Friend!

Making of (din pacate nu am gasit varianta cu traducere in lb engleza):
Update: Cine nu s-a emotionat macar un pic in timpul vizionarii sa ridice doua degetele si sa comenteze mai jos din ce motiv. kthxbye!