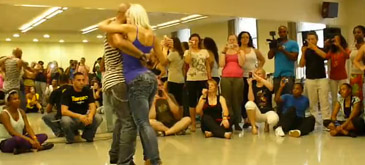 Kizomba is one of the most popular genres of dance and music created in Angola. Derived directly from Zouk, sung generally in Portuguese, it is a genre of music with a romantic flow mixed with African rhythm. The kizomba dancing style is also known to be very sensual. [wiki]
The song is "Não Me Toca" by "Anselmo Ralph".
Postez acest dans/clip aici din doua motive: 1. Cei care practica dansul vor invata niste miscari interesante. 2. Barbatii vor aprecia miscarile interesante ale tipei. 😀
Numele piesei din fundal il puteti gasi mai sus. Enjoy it!
Bonus: Kizomba 2 (Albir And Sarah) – Show December 2011 during The Paris Bachata festival.