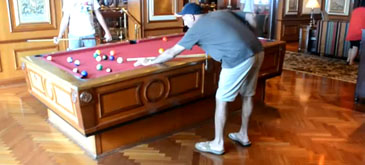 This is a video taken by a friend, of the Gyroscopic self leveling pool table on the cruise ship "Radiance of the Seas", while travelling back from New Zealand in rough weather in December 2011  http://www.royalcaribbean.com/

As the ship moves the pool table adjusts so that the billiard balls don't move at all, even in rough weather. If you look closely you can see that the balls remain still as the table moves, enabling you to play in almost any conditions..
Astazi veti intelege extrem de bine modalitatea prin care impatimitii acestui joc pot juca biliard pe o nava de croaziera – chiar si in timpul unei furtuni. (Giroscop – wiki).
Update: Va dati seama ca pe o astfel de masa poti face si operatii in caz de nevoie? 😀