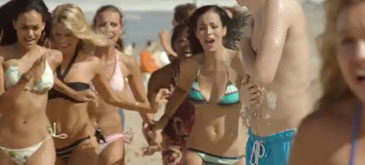 For the first time, a guy is using an AXE shower gel and makes the girls run away. Why ???
Experience a very unexpected Axe Effect with the Axe Anarchy shower gel.

Spre deosebire de tema abordata in toate reclamele Axe de pana acum, astazi observam pentru prima oara un efect surprinzator: cârdul de fete nu mai alearga dupa masculul plin de Axe ci dimpotriva, dau bir cu fugitii in momentul cand acesta apare.
Lucru ciudat, nu? Dar sa vedem impreuna motivul: