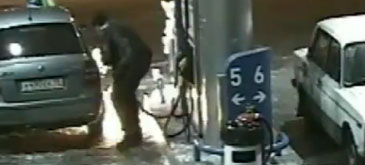 GOD DAMMMMMMM.. Never seen so many retards in one video. Who's thicker here the dude with the lighter(ur and petrol) or the assistant who cant FUKING AIMMMMM. Shetttttttttt.
In filmarea de mai jos gasim clasica greseala: un retard verifica/isi face lumina in interiorul rezervorului… (ca sa observe ce? Daca mai are benzina acolo? Sau..wtf?). In fine, treaba e ca nici angajatul benzinariei nu a stiut sa faca fata unei astfel de situatii in care orice secunda conta, totul putea sa explodeze in orice secunda.
Insa totul e bine cand se termina cu bine, nu?
Update: si un sfat mic pentru atunci cand alimentati – Strop cu Strop.


[thx to branco]