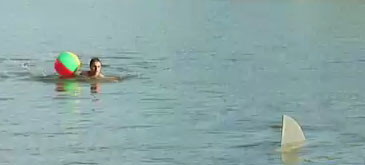 This prank has nothing to do with flying carpets… or does it? Actually, a fake shark attacks people that jump in the water to retrieve a beach ball for a girl in a bikini. Presumably, the shark was summoned by the musicians playing the Jaws theme song. That is all.
O farsa de vara – ca sa zic  asa – marca Just For Laughs.
Update: Si daca tot suntem la capitolul "pranks" atunci primiti si un bonus – Best of just for laughs ( 2011 ) HQ (vezi sfarsitul postului).
Bonus: