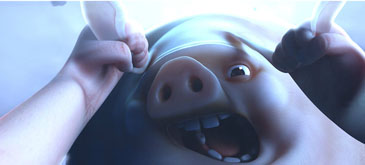 Brusque farmer is driving the truck with his big fat pig in the back. Passing the dark and foggy road he suddenly be attacked by a huge UFO. The farmer and the pig have no sense why they are being attacked and running. The UFO is now attacking more heavier. What is the truth of this chase…How the farmer and the pig are going to get out of this danger?

Directed by :
GEUNTAE PARK / pgt1215@gmail.com / gtpark.blogspot.com
JONGKI JEON / cuwhenuget@gmail.com
KYUNG SOO YU / flcl3th@gmail.com
Cu voia dumneavoastra, reluam rubrica noastra saptamanala si anume animatia de vineri. Vizionare placuta!