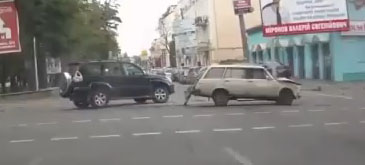 Black Toyota Land Cruiser destroys a Lada that was crossing the road on green lights.
What did the two men in the Lada do.. They took their bags and left the scene without looking back.. Is this post-traumatic shock disorder or just the "let's go on with life" attitude?
Eu cred ca tipii din Lada alba (care au intrat in intersectie pe culoarea verde a semaforului) erau de la Serviciile Secrete, ceva kaghebisti aflati in misiune, asa se explica de ce si-au luat talpasita rapid si si-au vazut de ale lor, chiar daca nu erau vinovati de producerea accidentului.
Rusia…..