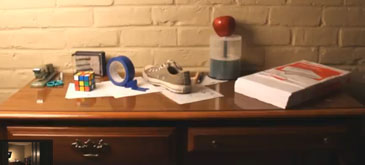 These are so simple but always so amazing to see.
I did 3 anamorphic illusions. Rubiks cube, a roll of tape and a shoe. Which one is your favorite? I like the shoe the best.
Oh and lets not for the kitty cat. Hyder thought she was anamorphic for a bit there.
I've included the images in this video for you to download and try yourself. Print them on 8.5 X 14. Cut the paper any way you'd like to add more of an effect.

Rubiks – http://i.imgur.com/ffAnX.jpg
Tape – http://i.imgur.com/GUU2b.jpg
Shoe – http://i.imgur.com/J8VNL.jpg
Iluziile anamorfice sunt imagini, proiectii distorsionate ce nu pot fi reconstituite decat privite dintr-un anumit unghi. Daca in mod normal par doar niste forme colorate, privite de la o anumită distanta si sub un anumit unghi, acestea formează niste adevarate opere de arta (exemplu stau imaginile din linkurile de mai sus, le puteti admira "la treaba: in materialul video de la sfarsitul postului).
Oamenii adora iluziile, drept dovada acest filmulet avea la momentul publicarii acestui post, nici mai mult, nici mai putin decat 6(sase!) milioane vizualizari in doar 3 zile de la lansare.
If this person could do this with porn, they'd make millions. 😀