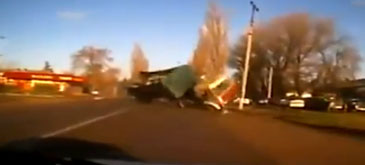 Truck Carrying Full Of Cows Flips Over in A Crash in Russia
This Is What It Looks Like When A Truck Full Of Cows Flips Over
We haven't seen anything crazy out of Russia over the last few days and we were getting very concerned that the roads had become tame.
…. se rastoarna pe o strada din Rusia.
Imaginile sunt spectaculoase, nu cred ca ati vazut vreodata asa ceva.
Disclaimer: niciun animal nu a fost ranit (aparent).