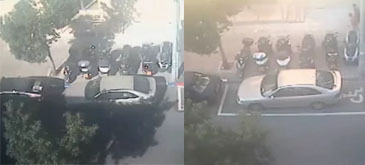 The driver of the car was the victim of a municipal scam. After she parked and left her car, contractors came along and painted lines around her vehicle and the "handicapped" emblem in her space. Then a two truck was sent to move the vehicle and the driver faced fines and fees approximating $365. Fortunately she was able to find this surveillance video and got the fines dismissed. This was in Tel Aviv, Israel
Imaginile de mai jos sunt filmate in Israel. Nu inteleg limba, am urmarit cele doua minute de filmare si nu am inteles nimic. Insa la a doua vizionare si dupa ce am citit comentariile de pe Youtube, mi-a fost clar: o masina este parcata regulamentar. Un angajat al vreunei firme responsabila cu marcarea semnelor de circulatie se apropie la un moment dat si isi face de lucru in jurul masinii. Si ia ghiciti voi ce iese din mana acestuia? O mareata opera de arta care demonstreaza oricui faptul ca acel loc de parcare era destinat handicapatilor.
Am inteles ca proprietara (o soferita) fost si amendata cu suma de 365 $ insa cu ajutorul inregistrarii de mai jos a reusit sa scape de plata acesteia.