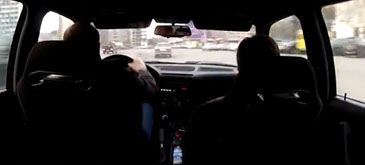 This is the LAST ILLEGAL street racing video. Join Us at "NEEDFORDRIVE.COM", NEW LEGAL VIDEOS SOON!!! Driver – GIORGI TEVZADZE. Georgia, Tbilisi.
Video is Property of "NeedForDrive.com" !
Dupa ce am vazut imaginile de mai jos pot concluziona doar atat: e plina lumea de prosti inconstienti pe care nu-i asteapta nimeni acasa, putem doar spera sa nu avem vreodata "norocul" sa dam peste asemenea specimene in trafic (sau in viata de zi cu zi).