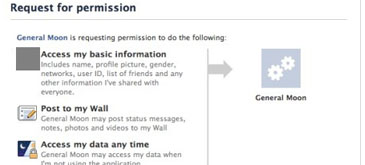 Privacy Policy
Your personal information is NEVER stored and never seen by anyone. Facebook grants us access to your personal information while you are using this application, but we save NOTHING, not even your first name. We will never share or sell your personal information with anyone.
Incepand inca de ieri am primit de la prietenii mei de pe Facebook, peste zece cereri de a instala o aplicatie cu ajutorul careia ar trebui (conform descrierii facute de creatori) sa pot vedea cine mi-a vizitat profilul de Facebook in ultimele zile. O prostie, nu va lasati inselati.
Pot vedea cine mi-a vazut profilul pe Facebook? Nu, nu poti vedea cine ti-a vazut profilul. Nicio aplicatie de pe Facebook nu iti ofera acces la informatii despre cine s-a uitat la pozele tale, cine te-a vizitat recent sau cine te hartuieste folosind reteaua sociala. Sunt tot felul de aplicatii care apar zilnic dar niciuna de real folos, acestea nu te ajuta decat poate sa ai niste virusi in plus in calculator/laptop/tableta/mobil. Nu mai e ca pe Hi5, nu poti vedea cine ti-a vizitat profilul pe Facebook, orice aplicatie care iti promite asta este rau intentionata si nu face altceva decat sa te umple de virusei.

Daca citeai Termenii si Conditiile cand te-ai inscris pe Facebook, gaseai cu siguranta raspunsul:
Can I know who's viewing my profile or how often it's being viewed?
No, Facebook does not provide a functionality that enables you to track who is viewing your profile,…
No, Facebook does not provide a functionality that enables you to track who is viewing your profile, or parts of your profile, such as your photos. Third party applications also cannot provide this functionality. Applications that claim to give you this ability will be removed from Facebook for violating policy. You can report applications that provide untrustworthy experiences by following the instructions outlined here.
Platforma Facebook nu permite niciunei aplicatii legitime sa colecteze date legate de traficul pe pagina unui anumit utilizator, prin urmare, toate mecanismele asemanatoare cu cel descris anterior sunt menite sa atraga un public cat mai numeros pe pagini care pot fi, ulterior, folosite pentru raspandirea de link-uri periculoase. Doar Facebook stie cine ne viziteaza profilele. Toate datele despre profilul unui utilizator sunt pastrate in baza Facebook, care poate fi accesata si de FBI in cazul in care exista suspiciuni privind un comportament delicvent.
Deci daca vreti sa vedeti cine v-a vizitat profilul ar fi bine sa aveti rude pe la FBI. 🙂
Update: Numele virusului care a atacat reteaua de socializare Facebook afectand zilele trecute peste 200.000 de romani, se numeste"Vezi cine ti-a urmarit profilul". Aplicatia promitea utilizatorilor lista completa a celor care le-au vizitat profilul insa odata ce acestia apasau butonul "Like", puneau la dispozitie toate datele si intrau intr-unul din cele mai vechi mecanisme de propagare a escrocheriilor in retelele sociale: tag-jacking-ul. Aplicatia posta mesaje automate pe profilele celor interesati, de acolo se propaga insa mai departe, fara a le arata lista promisa. O adevarata metoda piramidala. 🙂 Acum ca stiti despre ce este vorba, este cazul sa va avertizati prietenii de pericolul la care sunt expusi.