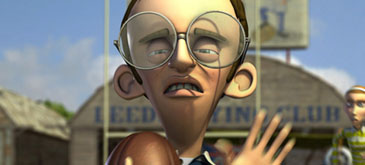 The Jockstrap Raiders is a Student Academy Award winning animated short film about a group of misfits during world war I. It takes place in Leeds, England where our heroes are all excluded from the war due to various abnormalities. Threatened by the invading German Kaiser and his army, they must learn to become a team and overcome their deficiencies in order to save Britain, and the world.
Completed at UCLA, it is Mark Nelson's MFA thesis project. The short has won many awards, including: Student Academy Award; Best Animation, British Animation Festival; Best Animation Macon Film Festival; Best Narrative Short GI Film Festival; Audience Award Orlando Film Festival.
Please check out the "Making of" video: vimeo.com/24575530
thejockstrapraiders.com/
facebook.com/pages/The-Jockstrap-Raiders/161759627305816
Cu voia dumneavoastra, va prezint mai jos animatia de vineri. Vizionare placuta!

The Jockstrap Raiders from Mark Nelson on Vimeo.
thx to mArS