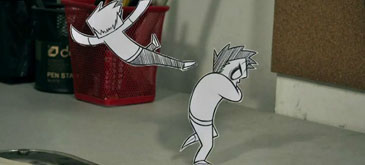 Film Name Paper War
Duration 06′06″
Director Zhe Zhang
Screenwriter Zhe Zhang
Synopsis
Paper Diaosi* living in a white paper world always has nothing to do. One day, he sees an amazing beauty living on the opposite side of his building. When he is about to propose, the second Paper Diaosi shows up, it makes him furious. In order to get the beauty's love, the two Paper Diaosi begin to fight each other. Time pasts every second. The beauty starts to lose patient. Who will win her love?
*Diaosi in Chinese means someone who is young, poor, miserable but never loses hopes for a better live.
Cu voia dumneavoastra, reluam rubrica noastra saptamanala si anume animatia de vineri. Vizionare placuta!
Paper War from GKCFF on Vimeo.