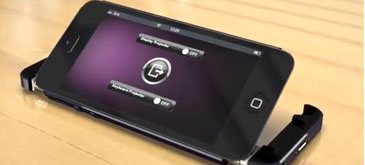 Viitorul smartphone iPhone pe care Apple il va lansa anul acesta va avea o functie revolutionara, pe care ceilalti concurenti din piata nu o vor avea, potrivit analistului Morgan Stanley, Katy Huberty.
Nu o sa va vina sa credeti de ce va fi acest telefon in stare. Potrivit unui clip video care face in aceste zile furori pe Internet, iPhone 6 ar urma sa fie primul telefon Apple cu proiector si tastatura virtuala. Viitorul smartphone al celor de la Apple, care s-ar putea numi iPhone 5S sau iPhone 6, ar putea fi lansat in a doua parte a anului.
I know this is fake, but if this happened in the future it would be epic
Ok, noi am ras destul insa daca cautati pe internet o sa vedeti cate site-uri si-au luat teapa si prezinta informatiile de mai sus drept reale.
LE: Nu e prima oara cand se aduce in discutie acest concept. Filmul de mai jos este lansat prin 2011 si are ~ 67 milioane vizionari pana in momentul de fata:
Amazing Concept iPhone 5. This CG iPhone 5 has advanced iPhone features such as a sleeker iPhone design, a laser keyboard & holographic display all rolled into this iPhone 5 video.
Lumea viseaza! 🙂