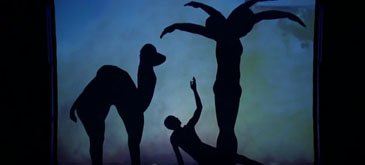 Attraction perform their stunning shadow act – Week 1 Auditions | Britain's Got Talent 2013
Attraction leave Amanda speechless with their awesome dramatics.
There won't be a dry eye in your house after watching shadow theatre company Attraction perform — Amanda certainly welled up! Stunning magical dramatics that put our hand shadow of a bird to shame.
Vreau sa va atentionez inca de la inceput ca daca cumva va ganditi sa inchideti clipul dupa cateva secunde – crezand ca urmeaza sa vizionati doar un numar clasic de balet – atunci o sa gresiti amarnic. 8 milioane de vizionari pe Youtube in 8 zile de la publicare – asta ar trebui sa demonstreze ceva.
LE: trupa este din Ungaria si participa la Britain's Got Talent 2013. Sa inteleg ca in Ungaria nu s-a gandit nicio televiziune sa cumpere franciza "Got Talent"? 🙂
Bonus: pe aceeasi tema dar materialul e din 2011 – Gruppe Pilobolus Amazing Shadow Dance

Bonus 2: Die Mobilés – Moving Shadows – Schattentheater – Castigatorii "La France a un incroyable talent" din 2010:
thx to branco