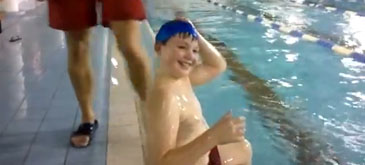 That's a really quick and funny way to pun on a swimming cap in just one second.
Si daca tot v-am facut aceasta precizare importanta atunci sa va expun si o modalitate de aplicare a acestui accesoriu pe capul unui inotator. Se stie faptul ca "sa-ti tragi casca pe cap" este un proces destul de complex, iti prinzi parul, te ranesti, etc.
In imaginile de mai jos puteti gasi o cale usoara de aplicare, va invit sa o incercati:
Update: Btw, daca cumva ajungeti la Bazinul Olimpic din Brasov si nu aveti casca atunci trebuie sa stiti ca puteti inchiria una la predul modic de 0.5 lei. Mocangeala.
Si cateva informatii pentru cei interesati:
Program Piscina:
Marti: 08:00-09:00; 10:00-11:30; 12:00-13:30; 14:00-15:30; 18:15-19:45; 20:00-21:30.
Miercuri: 08:00-09:00; 10:00-11:30; 12:00-13:30; 14:00-15:30; 18:15-19:45.
Joi: 08:00-09:00; 10:00-11:30; 12:00-13:30; 14:00-15:30; 18:15-19:45; 20:00-21:30.
Vineri: 08:00-09:00; 10:00-11:30; 12.00-13:30; 14:00-15:30; 18:15-19:45.
Sambata: 08:00-09:00; 10:00-11:30; 12:00-13:30; 14:00-15:30; 16:00-17:30; 18:00-19:30
Duminica: 08:00-09:00; 10:00-11:30; 12:00-13:30; 14:00-15:30; 16:00-17:30;
Tarife:
– 120 RON/CURS/12 serii
– 6 RON bilet piscină pentru copii
– 12 RON bilet piscina adulti
– 10 RON bilet saună/90 min