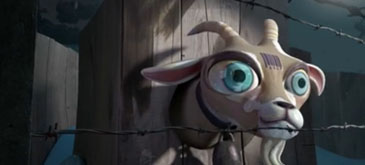 A story about the fire at the heart of suffering.
Bringing together dancers, musicians, visual artists and 3d animators, the film takes a critical look at current events. A mysterious figure travels aboard his boat through a dark and desolate landscape in his quest for inner peace.
Winner Ocelot Robot Film Festival
Placed 14th/100 best of 2012 | Fubiz
The Future of Animation | SOTW Awards 2013
"3D Movie creation" best film distinction | 4th International Animated Short Film Festival "Ciné court animé"
Cu voia dumneavoastra, va prezint mai jos animatia de vineri. Vizionare placuta!
I, pet goat II from Heliofant on Vimeo.