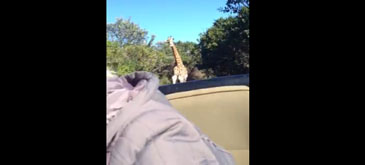 Giraffe chasing jeep
After an amazing wedding we went on a game drive and a hormonal Giraffe started to chase our jeep. After about 5km of being chased I started recording the chase on my phone. You can see how he gets closer and closer after every turn. We started to run out of road and the ranger banged on the side of the jeep to scare him off. We started to make a noise and he stopped.

Just in time as we had to make a 4 point turn to continue on the road!
Jeep galben – checked.
Padure tropicala – checked.
Idiot ce nu stie sa filmeze cu un smarphone (context aici)- checked.
O lighioana infometata ce tocmai a simtit miros de om – tocmai s-a decis sa ne urmareasca.