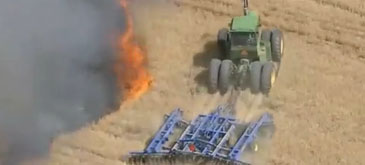 Farmer Digs Fire Line With Tractor
7/8/13 – Eric Howard digs a fire line using a tractor in a wheat field in Weld County, Colorado. The fire burned an estimated 20-30 acres in the 80 acre field.
Un incendiu de proportii izbucnit intr-un lan de grau este izolat de catre doi fermieri care, fiecare cu ajutorul unui tractor, fac o bariera intre flacari si spicele ce pot fi nimicite in urmatorul minut. Sunt sigur ca si ai nostri sunt destul de inteligenti si ar putea face la fel insa nu sunt la fel de sigur ca dispun de tehnologia necesara. Cu plugul tras de boi nu prea cred ca ajung departe….