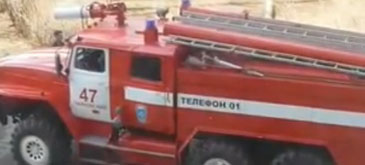 Got was stuck on the top of a tree for a long and was afraid to jump down on it's own. Before it starved to death firefighters were called to get the cat off the tree.
Cat wasn't injured, good landing
Varianta clasica o stiti, un pompier se urca in copac, prinde pisica apoi coboara cu ea in brate si o aduce pe pamant in conditii de siguranta.
Varianta reala o puteti urmari mai jos, imaginile sunt filmate in Rusia daca nu ma insel: