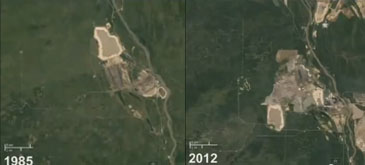 A glacier shrinks, a rainforest disappears and a major U.S. city expands before your eyes in the new Google Timelapse project. The partnership blends 28 years of satellite imagery and Google Earth Engine technology to show the impact of human activity on the planet. A new Landsat satellite launched earlier this year will add its leading-edge cameras to the project.
Niste imagini impresionante, o serie de timelapse-uri realizate cu ajutorul unor imagini surprinse din satelit in decursul a 28 de ani. O padure dispare, un ghetar se topeste, un oras american se transforma si se extinde rapid.
Si pentru ca tot e un subiect arzator la noi, poate ca ar trebui facut un astfel de material si despre padurile din Romania (vezi ultimele episoade din "Romania, te iubesc" – ProTv), cred ca ne-am cruci vazand diferentele de la an la an.