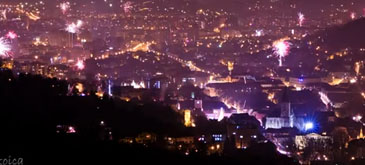 Un mic timelapse al focurilor de artificii de deasupra Brașovului din noaptea dintre ani. La repezeală, din camera de back-up.
A small timelapse of the fireworks over Brasov, Romania made in the New Year's Eve. Done quickly with images taken from the back-up camera.

Facebook: http://www.facebook.com/atentie
Twitter: http://www.twitter.com/ionutstoica
La fel ca si anul trecut, va invit sa urmarim mai jos cateva imagini cu Brasovul suprins in noaptea de Revelion, presupun ca locatia este Belvedere.


thx to saw