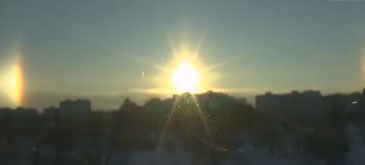 Halo (sun dog) in Moscow.
Today (19 Jan 2014 in the morning), when I came to subway I saw strange
effect around The Sun and decided to record that optical phenomenon on
my videocamera. Temperature in the street is -20 degrees Celsius.
Fenomenul halo (cunoscut si ca nimb sau aureola) reprezinta un grup de fenomene optice sau luminoase, care se formeaza ca rezultat al refractiei si reflectiei razelor solare in cristalele hexagonale de gheata, continute in norii cirostratus la inaltimea de 7-12 km, unde temperatura este de -30 de grade [de aici].