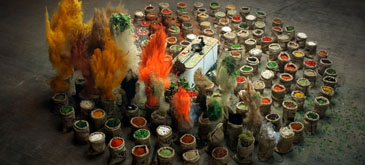 The Sound of Taste
An audio visual installation in association with Schwartz Flavour Shots, an innovative new
range of herb and spice blends locked in oil. What does flavour look like? How does it
sound? These are the questions that inspired herb and spice experts, Schwartz, to create
what they describe as a 'Sonic Flavourscape'.
Several tons of black peppercorns, cardamom, turmeric, paprika, cumin seeds, ginger, chilli
and coriander were rigged to explode in perfect sync with a bespoke musical composition.
Each explosion represents an individual piano note or chord, which when filmed at high
speed, creates a surreal three dimensional sound scape.
Va asigur ca ceea ce veti vedea mai jos este arta pura. 🙂 recomand Full screen + buton de HD activat.