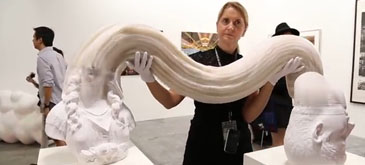 Li Hongbo's Paper Sculptures
Taken at Artstage 2014, Singapore
Chinese Artist Li Hongbo's paper sculptures look ordinary at first glance, but what seems to be a simple bust turns out to be thin sheets of paper glued together. When pulled, they seem to stretch infinitely. Each sculpture requires a painstaking amount of work and takes 4 to 5 months to make
Am ramas profund impresionat de ceea ce veti vedea si voi mai jos, sculpturi efectuate din hartie. Artistul chinez Li Hongbo este creatorul unora dintre cele mai neobisnuite sculpturi din hartie. Acestea sunt flexibile si, desi initial par facute din cel mai fin portelan, demonstratia din filmul de mai jos va va arata ca ele sunt de fapt create din mii de straturi de hartie, foarte subtiri si  lipite intre ele. Fiecare sculptura a fost creata in decurs de patru sau chiar cinci luni.


Bonus – asa decurge procesul de creare:

Mai multe gasiti si aici.