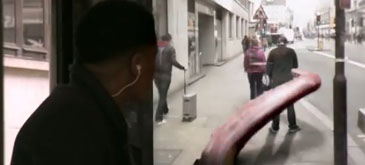 Unbelievable Bus Shelter | Pepsi Max. Unbelievable #LiveForNow
Pepsi Max surprise commuters with an 'unbelievable' augmented reality experience at a bus shelter on New Oxford Street in London.
Watch their reactions as unbelievable scenarios unfold before their very eyes; from a giant robot crashing through the street to a passer by being abducted by flying saucers.
Pepsi Max "modifica realitatea" prin intermediul unei campanii publicitare inedite. Farfurii zburatoare, roboti ucigasi, tigrii si alti monstruleti "draguti" prind viata cu ajutorul unui ecran instalat intr-o statie de autobuz din Londra. Excelenta idee, o sa va placa cu siguranta, reactia oamenilor e pe masura. 😉