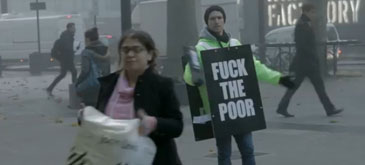 #FuckThePoor
A man walks the streets of London shouting #FuckThePoor.
Social experiment from poverty charity, The Pilion Trust, to see whether we really do care about those less fortunate.
Un experiment social ce demonstreaza un lucru interesant: in momentul cand incerci sa ajuti oamenii sarmani prin metode uzuale, lumea nu reactioneaza mai deloc, insa atunci cand vii cu o metoda agresiva rezultatele sunt peste asteptari iar cetatenii arata ca le pasa.