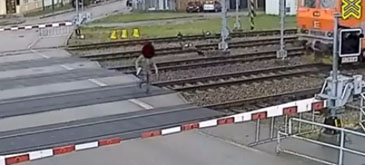 Czech Man Nearly Killed by Train

A man almost got run over by a train while crossing the railway in the small town of Czech Republic. CCTV footage released by the Czech police shows the 77-year-old hurrying across the tracks, only to be clipped by an oncoming fast train. The man escaped serious injury, but will be receiving a fine for his reckless behavior. The worst thing is that none of the drivers stopped to help him
Unii oameni sunt chiar dementi, sa-ti risti viata pentru a ajunge undeva cu un minut mai devreme e o prostie mare. Unde se grabea mosulica asta? La 77 ani te mai grabesti undeva?
thx to branco