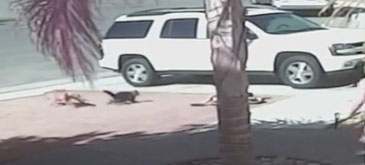 My Cat Saved My Son
My cat defends my son during a vicious dog attack and runs the dog off before he can do additional damage. Thankfully, my son is fine!

Question: Why did the mom run away?
Answer: After checking his wounds she made sure the dog did not return for a second attempt. The owners were there also and she was bit by the dog as she tried to pin him in his yard. The owners did get control of the dog and secured him in which she immediately returned to attending to our son. I did not include that video because it was not so much about the dog but about the cats actions.
In imaginile de mai jos veti asista la o scena in care un baietel este atacat de un caine, insa imediat acesta este atacat la randu-i de o pisica. Acum nu stiu daca pisica a actionat din instinct sau chiar a sarit in ajutorul baiatului, va las pe voi sa ma dumiriti.
thx to branco