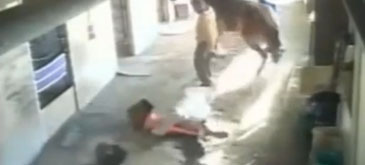 Don't Ignore the Safety Cones When Working with Horses
You just never know what's lurking in a darkened stall at a racetrack barn.
The video surveillance system at Parx Racing (near Philadelphia) recently captured this incident, which certainly caught the surprise of the stable-hand.
Carrying two buckets and walking towards the camera, he moves to one side to avoid a horse being led through the barn. Instead of waiting, he makes his way through the stalls, ignoring the safety cone and passing a stall.
And that's when it happens …..
Poate ca doar dupa aceasta intamplare temerarul nostru va intelege ca de acum incolo, prezenta unui con de semnalizare inseamna PERICOL. 🙂