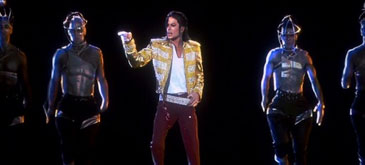 Michael Jackson – Slave To The Rhythm
Optimum Productions & Pulse Evolution
"Slave to the Rhythm"a fost inregistrata acum aproape 15 ani, iar prin 2010 a aparut pe Internet fara a se face insa buzz foarte mare (cantecul a fost lansat dupa moartea artistului, pe albumul Xscape, pe care s-au regasit si alte piese inregistrate de Jackson dar care nu au fost publicate in timpul vietii sale).  Zilele trecute, la Billboard Awards 2014, Michael Jackson a prins viata cu ajutorul tehnologiei, sub forma unei holograme. Din cate am inteles, pentru realizarea acestui proiect a fost nevoie de aproape o jumatate de an de planificare, coregrafie si filmare plus dezvoltare si adaptarea de noi tehnologii privind proiectul (nu am gasit informatii despre costuri, presupun ca nu au fost mici).
Nu stiu de ce dar dupa ce am vizionat materialul de mai jos am devenit extrem de nostalgic. Voi?