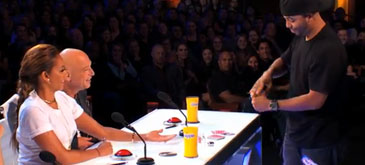 Smoothini: Bar Magician Flies Through Amazing Tricks – America's Got Talent 2014
Abracadabra! This ex-Marine turned "ghetto Houdini" is a magical must see! Watch as he wows the crowd with his mind-blowing bar magic–and makes Howie Mandel's pen disappear up his nose.
Un magician, fost soldat american, care a impresoinat la maxim juriul America's Got Talent cu trucurile sale.