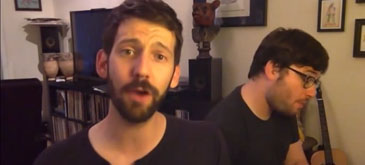 "Perfect" is from my new album, NOT A TRAMPOLINE.
Listen to the studio version here: http://bit.ly/1fW7DQw
Purchase the album on iTunes: http://bit.ly/VJ2zZU
For more info, check out my facebook page: http://on.fb.me/1nYq8Ea

29 Celebrity Impressions, 1 Original Song – Rob Cantor
Tipul asta, pe numele say – Rob Cantor – are un adevarat talent. Imita la perfectie vocile a 29 de personalitati (cantareti, actori) si face acest lucru pentru a-si promova un cantec, compozitie proprie. Va invit sa-l admirati mai jos, viralul a "prins" ~ 7 milioane de vizionari deja.
Update – 9 Iulie: Making offu' o sa ne dea cateva detalii in plus 🙂
Bonus: Bohemian Rhapsody in 25 different voices