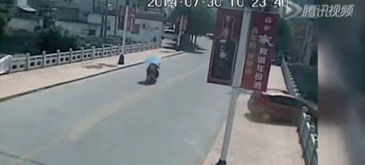 Woman Mistakenly Drives Her Car off Bridge
July 30 morning, next to Hill County, Anhui, southern waterfront district, on the East River bridge closed, a car has turned the corner, and continued to drive through the bridge guardrail and falling into the river landscape.
In her panic, rather than applying the brakes, the female driver hit the throttle instead and continued over the edge. The guardrail will need more than ten thousand yuan to repair.

Si i-am zis lu' barbatu-miu sa nu-mi cumpere masina cu cutie semiautomata…