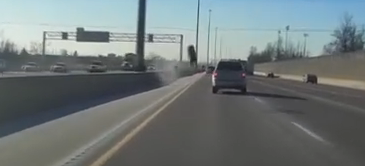 Car Tire Smashes Through Windshield
Special thanks to my lovely fiancée. She was the first thing I thought about when the tire hit the car I'm glad that I was able to see her again.
I was driving Westbound on the 401 approaching Salem Road on Tuesday Jan 13th 2015 when a tire flew over the median and smashed into my car.
You can see the white car (heading eastbound) skid off to the shoulder at around 10 seconds.
I'm lucky to be alive.
Sa mearga linistit pe austostrada si din senin sa-i "sara" un cauciuc prin parbriz….