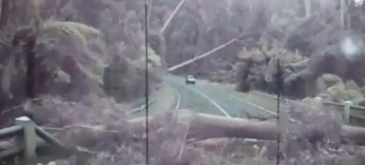 The Black Spur Wind storm Tree Fall, Victoria, Australia
This educational video taken with a dash cam 29 December 2014 at approximately 2.15pm shows the results of a strip wind storm on a small country highway in central Victoria. The windstorm weaved its way up the Watt's River valley before creating havoc at the Watt's River bridge.
This is a great educational video showing the dangers of traveling in the bush during periods of high wind.
Imaginile de mai jos sunt desprinse parca dintr-un film de groaza:

thx to branco
Bonus:
Cyclonic winds at work in Kuranda, Australia
19/1/15 in Kuranda, Queensland, Australia during a hailstorm, including strong damaging winds.