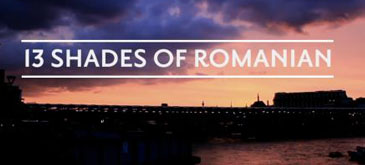 Fundraising promo for our '13 Shades of Romanian' documentary film.
Click here to donate: indiegogo.com/projects/13-shades-of-romanian
A DOCUMENTARY THAT BRINGS FORTH A CHANGE OF MENTALITY TOWARD THE ROMANIANS LIVING IN BRITAIN. AN INSPIRING VISUAL JOURNEY THAT AIMS AT REVEALING THE TRUE SHADES OF BEING ROMANIAN IN THE UK.
Please support our Facebook page: facebook.com/13shadesofromanian
Coming Soon 2015.
thisisinsomnia.co.uk
Dupa lansarea documentarului "The Romanians are Coming", in care producatorii britanici ne-au pus cumva intr-o lumina proasta (cel putin in cele doua episoade difuzate pana acum  – vezi aici si aici), doi fraţi din Brasov – Anda si Rares Teglas – s-au decis sa arate lumii si totodata englezilor povestile de succes ale romanilor care traiesc in Anglia, mai exact 13 povesti de succes a 13 romani. Mai jos aveti un teaser, documentarul urmeaza sa fie lansat in aproximativ doua luni.


thx to liviug