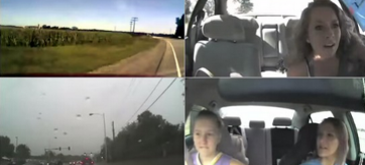 AAA video analysis provides shocking results among teen drivers
Unprecedented video analysis finds that distraction was a factor in nearly 6 out of 10 moderate-to-severe teen crashes, which is four times as many as official estimates based on police reports. Some of that footage is included in this video. (Video courtesy AAA Foundation for Traffic Safety)
Nu stiu daca e doar impresia mea, dar tind sa cred ca in materialul de mai jos sunt filmati doar americani din aia idioti care si-au luat permisul la saispe' ani si inca se uita la desene animate si se joaca GTA sau NFS. Serios, inconstienti si idioti!!