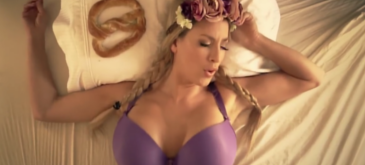 How different NATIONS have SEX
I'm just being a naughty girl here. 😉
Don't blame me for your clichés, I am just using them for a bit of fun. I hope you know that none of these stereotypes are necessarily representative of any of these countries' people. But you can do such funny stuff with those prejudices and I had this wonderful idea for these little skits, so… I'm only sorry if you didn't laugh.
Jordan Carver s-a hotarat sa faca un clip-parodie, in care se transpune in pielea a catorva femei, apartinand diferitelor natiuni, in timp ce mimeaza actul sexual. Tipa zice: "Sunt doar o fata obraznica aici. Nu ma invinuiti pentru clisee, eu doar le folosesc pentru a ma distra un pic. Sper ca intelegeti ca niciunul dintre aceste stereotipuri nu reprezinta neaparat populatia unei tari. Dar aceste prejudicii pot fi folosite in scopuri distractive, asa ca am avut ideea sa fac acest video. Imi pare rau daca nu vi se pare amuzant."