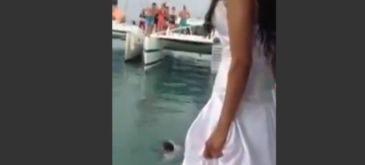 Trashing the Dress Jump Into Water Nearly Becomes an LL Classic
The bride jumps from boat and nearly drowns ….. husband almost collected the life insurance in record time.
Sper ca aceste imagini sa-i ajute pe viitorii tineri insuratei sa nu puna in aplicare astfel de idei pentru celebrul eveniment de dupa nunta , "Trash the Dress". Nu de alta dar rochia miresei – prin complexitatea constructiei – poate dauna grav sanatatii.