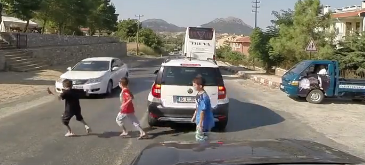 Near Tragedy for Child Running Across Road
Footage of an extremely lucky child who races across the road without looking into the path of a vehicle, where he attempts to stop at the last second, hitting the side of the car and mirror.
So very lucky to have escaped without serious injury.
Sau mai bine zis faceti tot posibilul sa-i educati corect. Prima regula cand treci strada: nu alergi, asta dupa ce te asiguri stanga-dreapta!