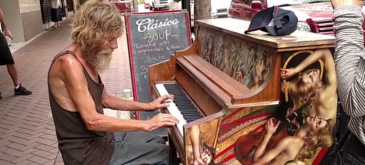 Homeless Man Plays Piano Beautifully (Sarasota, FL) (ORIGINAL)
Dumnezeieste!
Update: Pe la finele anului trecut, alt "homeless" este filmat cantand la pian. La fel, filmul a devenit viral, peste 6,5 milioane vizionari pe Youtube:
Bonus:
Ryan, a man who has been living on the street for 30 years plays the piano outside in downtown Edmonton, in Churchill Square, no one taught him to play, he just could.