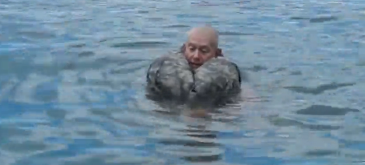 Instant Life Jacket Using Trousers
Using a technique taught to members of the military and lifeguards, this man demonstrated how in a pinch, a pair of trousers could be used as a makeshift life jacket by tying the legs together, putting the pants around your neck, then pushing air into the legs.
Am impresia ca pantalonii astia trebuie sa fie contruiti dintr-un material impermeabil. Sau?