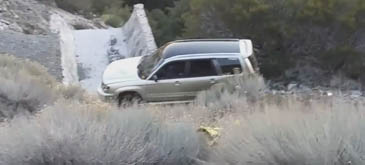 Caught on Dashcam – Car Crash and Flip Off the Side of a Mountain – Angeles Crest Highway
I'm primarily posting this in an attempt to help others learn from my mistakes. This is a reminder to be safe, pay attention and KNOW THE ROAD before you try to enjoy it. I failed on all 3 of those accounts and it nearly cost me my life.
Mai jos aveti niste imagini filmate de catre unul dintre cei mai norocosi soferi. Un sofer care iubeste zgomotul turat al motorului in timp ce strabate un tunel, o pasiune ce era sa-l costa scump. In timp ce se apasa acceleratia si se delecta cu "muzica" lui favorita, la iesire din tunel, masina a intrat in derapaj, a cazut de pe stanci si s-a oprit la marginea unei prapastii.


thx to branco