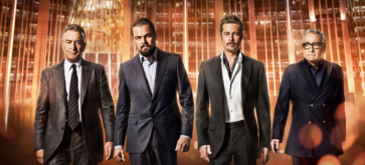 Hollywood heavyweights Robert De Niro and Leonardo DiCaprio have both starred in several Martin Scorsese films. Now the veteran director has pitted his two collaborators against each other in "The Audition", with both vying for the same role.
The 15-minute film, a multimillion-dollar short movie promoting the opening of Melco Crown Entertainment's new casino in Macau, sees Scorsese, De Niro and DiCaprio playing themselves, and even Brad Pitt makes an appearance.
Originally slated to screen at the Venice Film Festival in September, "The Audition" premiered on Tuesday as the Hollywood-themed Studio City resort opened its doors.
15 minute = 70 miloane de $. Una din explicatii ar fi ca Leonardo DiCaprio, Robert De Niro, Brad Pitt sunt protagonisti (Martin Scorses – regizor). Reclama ar promova deschiderea unui nou cazino in Macau. Deci are bani clientu'…. 🙂


via sirb