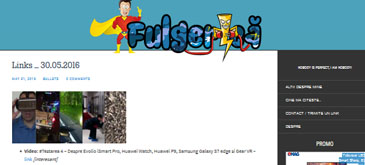 La aproape 10 ani de cand exista acest blog in online-ul romanesc, si tocmai pentru ca fosta tema nu era responsive, deci deloc aliniata cu tendintele actuale, si nu era "citibila" de pe device-urile mobile, am zis ca a venit momentul sa imi iau ramas bun de la hainele blogului pe care le-a purtat atatia ani la rand. Cred ca ultima tema a stat aici mai bine de sapte ani. Timp destul de indelungat, am cititori pe blog care-s mai tineri decat fosta mea tema, "E momentul pentru o schimbare!", m-am zis.
Si asa am inceput prin vara trecuta un proiect cu baietii de la The Con ( carora le multumesc inca o data pentru rabdarea de care au dat dovada). Ce-i drept, m-am cam inhamat la un proiect destul de time-consuming, nu credeam ca intregul proces imi va luat atat de mult timp, am inteles inca o data ca o schimbare de tema sau tot ce sta in jurul procesului de creare site, nu este un lucru la indemana oricui, si tocmai din acest motiv este bine sa ai langa tine o echipa de specialisti. Intr-un final am reusit sa facem pasul, ce-i drept, mai sunt de ajustat cateva particele, insa "here we are". Ce parere aveti? Cum va place noul header? Despre aspectul acestei teme nu pot sa spun ca ma incanta in mod deosebit, poate că o să mai imi bag nasul un pic prin cod, sa mai experimentez cateva modificari. Timp sa gasesc. 🙂
Nu-mi ramane decât sa le multumesc inca o data celor de la celor de The Con pentru profesionalism si pentru amabilitatea cu care mi-au raspuns la toate intrebarile sau nelamuririle (cred ca am schimbat mai mult de 50 de mailuri) si sa va rog pe voi, cititorii mei fideli, daca uneori veti  observa cumva ceva nefunctional sau vreo particica arata ciudat pe un anumit browser, sa-mi dati de stire ca sa incerc sa corectez in cel mai scurt timp. Daca aveti posibilitatea sa testati tema pe diverse device-uri mobile (smartphone, tableta) astept cu interes comentariile voastre.
Daca sunteti un blogger si aveti nevoie de ajutor, inscrieti-va in campania de sustinere a bloggerilor sustinuta de Thecon.