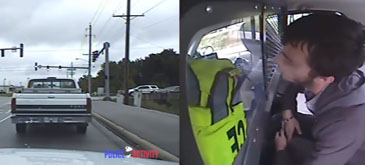 A Jonesboro, AR and his prisoner were injured today after his patrol car rolled over en route to jail. The officer involved is Justin Thompson with the Jonesboro Police Department.

Logan Younger, the 19 year old in custody, fled the scene after being ejected through the back windshield.
Uneori este bine sa nu porti centura de siguranta. Asta daca esti un prizonier aflat pe bancheta din spate a unei masini de politie si vrei sa fugi. Tanarul din imaginile de mai jos a reusit sa "fuga". Prin luneta.
Lasand gluma la o parte, folositi centura de siguranta!
Bonus: