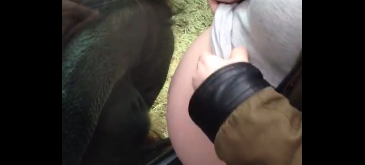 Orangutan Transfixed With Baby Bump Goes Viral
Kieran Bettany and his pregnant wife's trip to Colchester Zoo was made especially memorable by this special meeting with a resident orangutan.
Kayley was seven months pregnant at the time of the visit when her baby bump caught the eye of this orangutan who seemed both fascinated and moved by the bump as he tried to caress it.
Kieran siad, "this was a wonderful experience however upsetting at the same time. He even had a tear run down his face".
This video was first shared on Facebook on January 1 where it has been viewed over 16 million times at the time of writing. The YouTube version of this video which was uploaded the following day was trending on September 12. Credit: YouTube/Kieran Bettany
Ma intreb daca reactia acestui urangutan se bazeaza pe sentimente, sau ceea ce vedem e doar o coincidenta?